JimWantsAliens
Sgt-L5



Joined: 10 Feb 2014
Post Count: 374





Posted: Mon Jan 01, 2018 11:41 am
Itís that time again to take a look back at the year in Robo merch, events and general stuff. Any year is a good year to be a Robo fan, but 2017 was particularly noteworthy for being Roboís 30th anniversary (like I needed to tell you) and there was a fair few things to keep us occupied over the last 12 months.



Honorable Mention


A late addition, but a big shout out to my brother who got me a miniature version of the WCW Capital Combat 90 poster to display alongside my NECA Robos and WWE Sting figures. Obviously, this is quite specific to me, but donít worry the countdown will be more generally-known stuff! 

10
Fright Rags Tees & Enamel Pin Collection


A great selection of tees designed for the 30th anniversary and some pretty cool enamel pins too! The melting Emil one will be my Halloween costume of choice for the foreseeable future!

9
Custom Lego Figure


Donít get me wrong. High-end stuff is great. But when you find an unofficial Lego Robo on eBay for a couple of quid, itís be dumb not to pick it up. I tend to stay away from custom/unofficial stuff because Iíve been burned before, and I donít collect Lego (not since I was 8 anyway), but this little guy looks fantastic. The detail on the suit is spot-on. Lego Movies are big business now, right? Maybe Iíll try and animate The Lego RoboCop Movie with this guy one day.

8
Machinery Cop Lamps


I actually prefer the look of these to the Pop Vinyls. There is a lot of detail on the bodies and the light-up look is great. Again, unofficial, but a bit of a different and unique idea.

7
Dead Or Alive Volume Three


BOOM! Studiosí final trade paperback collecting issues 9-12 of their critically-acclaimed story by Joshua Williamson and Dennis Culver. Unfortunately, Carlos Magno has stepped down as the illustrator for these final 4 issues, but luckily Alejandro Aragon and Amancay Nahuelpan are on hand to pick up the art duties. Marissa Louise supplies some visual continuity as colourist. Supplementary material includes the obligatory covers gallery, a writersí interview, early sketches and character designs. Also available digitally on ComiXology with animated panel zooming!

6
R2, 3 & 2014 Screenplays


It seems the original movie screenplay has been widely-available online since the internet began. I managed to find copies of both sequels on eBay early in the year. Robo 2 comes in at a whopping 158 pages (despite only being numbered to 108) and varies drastically from the finished film. R3 is actually pretty close to the final product. Later in the year, I managed to get hold of the early 2014 screenplay (complete with social mode/combat mode Robos.) Now I have a library of 5 Robo-movie scripts, including the unproduced Corporate Wars which was my number 1 choice in last yearís countdown. Incidentally, due to the number of rewrites on R2, the passage in the picture is slightly different in my draft.

5
Chronicle Collectibles 1:1 Cain Helmet


Bit of a personal sore point this one. This went up for pre-order earlier in the year. Despite the whopping $1,000 price tag, I thought I should be able to scrape the cash together within a month or so. (CC have great flexible payment plans, but I like to pay upfront so that thereís no delay on dispatch.) Then I got hit with some unexpected bills, and next thing I notice, thereís no pre-order anymore. Apparently it was limited to 30-days, and the initial 100-piece run was reduced to just 11! This makes this piece one of the rarest (not to mention largest) Robo items ever! So if you have one, donít be shy Ė letís see some photos of this badboy! To be honest, this was out of my price-range for what it was, plus I literally would not have anywhere to store it really. Still, if CC want to re-open their pre-orders and produce the other 89 pieces, Iíd be in there like a shot and worry about silly things like money and space later.

4
NECA RvT Ultimate EndoCop with Terminator Dog 2-Pack


Coming packaged in an amazing box with Walter Simonsonís art that justifies the price tag alone, this figure depicts the EndoCop from the RvT comic and has been a long time coming. Thereís another Terminator reboot coming in 2019, so that RvT movie wonít be coming till at least 2025 now! 

3
RoboCop 2 & 3: Collectorís Edition Blu-Rays


Scream Factoryís special edition re-issues were maybe the most-anticipated releases of the year, and they did not disappoint. Highlight of this release is director Fred Dekkerís insightful audio commentary, where he discusses what he wanted to achieve with the third instalment in the series, some of his regrets and the challenges of coming up with a new story arc for the lead character. Itís a brilliantly-candid commentary and one of the most honest Iíve heard. Itís a tough-call on which of these re-issues is superior, but R2 edges ahead mainly just because the new transfer is lush. I never had any problem with the previous R2 Blu-Ray picture quality, but when you compare it to this new one, the colours just really pop and it looks noticeably better. Also, Paul M. Sammonís BTS video diaries from shooting provide a really cool look at the troubled production.

2
Chronicle Collectibles 1:2 Bust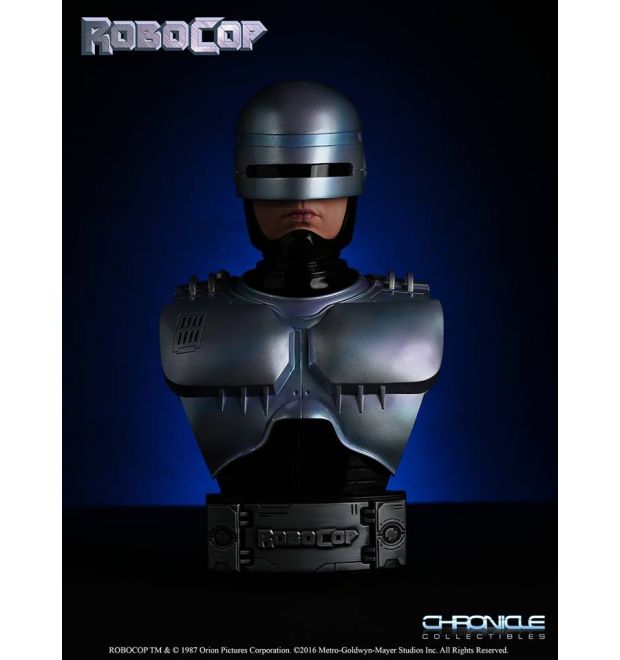 Iíll be honest, although Iíve been blown away by Chronicleís previous stuff, I really didnít have any desire to get hold of this item when it was announced. I certainly wouldnít have expected to put it at number 2 above the SE Blu-Rays on this list at year-end. I didnít have any busts, and I just thought, well at least theyíre doing it. But then the photos arrived, then the feedback started coming through, then they started selling really fast and, having been disappointed on the Cain helmet, I thought I should grab on before they sold out. And boy, was that the right move. The paint job and dimensions on this thing are perfect. In fact, there is a chameleon-like quality to the paintwork which photos just donít do justice Ė you really need to see this thing with your own eyes to appreciate it. Itís just a shame that licensing Peterís likeness is too cost-prohibitive (at the moment) because a helmetless bust would be the ideal compliment to this. And itís a quarter of the cost of the Cain helmet, with infinitely more detail! Go on, treat yourself! Although if youíve got $2,500 to spare, you could always befriend the amazing French artist Jean-Philippe Reuchet on Facebook and ask him to make you a 1:1 bust with removable helmet!

1
30th Anniversary Showing at Dallas City Hall


The ultimate event of the 30th anniversary year, the one I really wish I could have gone to, would have to be the 30th anniversary at OCP HQ itself! Any chance to see RoboCop on the big screen is not to be sniffed at (luckily, I did manage to see a 4K Digital Theatrical showing in the UK), but to see it at the building that doubled-up as OCP HQ with Dr Peter Weller in attendance, a legion of fans (and the arcade and pinballs machines on freeplay, I gather?), well that sounds like a kind of heaven to me. Letís hope when I die, I go there rather than get turned into a cyborg. Search for more photos on social media with the hashtag #RoboCopMovieParty



And whilst 2018 might be a little quieter, the quality should be better than ever:




RoboDoc


The highly-anticipated documentary covering the classic movie trilogy and original live-action TV series is now in post-production. No definite release date yet, but expect this sooner rather than later!



Chronicle Collectibles 1:1 Battle-Damaged Bust


Expect this lifesize, helmeted, battle-damaged bust sometime in the later half of 2018. Should give you time to save some dollars!



NECA Ultimate Future Robo


For those of us who find the high-end stuff a bit challenging to keep up with (especially since Bobby burnt my f***ing money), NECAís successful RoboCop Versus The Terminator line continues with another Robo variant from the classic comic book. Word is Neca have already begun dispatching these to stores, so expect to see them in shops any day now. Happy New Year!
---
Stan The Man
Bah Concepts Division

Joined: 05 Jun 2003
Post Count: 6844


Comment: I'm the guy in Old Archive.


Posted: Tue Jan 02, 2018 3:19 am
Was glad to save up what last crazy cash I had and travel to Dallas for that 30th screening. Really wish more guys could have come but several of us gathered up and had a blast nonetheless - yes this screening was pure awesome, as was meeting the lovely Diane Robin, great gal, as well as Reiko in his Robo glory. Only the VIP folks got to meet Weller.. still slightly kicking myself in the ass for not getting a VIP ticket but I think that would have proven too costly. Doesn't matter, still ruled.

Just as good as the event itself was our trek beforehand - A whole set of us (as shown by my photos) did a full city-wide drive checking out the screening locations on our own (VIP ticket holders got an official version of this same tour leading up to the showing) and made a weekend out of it. The police station, still thinking about that guy (Demise, Poco, you know who I mean)! The drug factory.. Just so kickass.

All-told yes once in a lifetime event and only thing that would have been better was all of you guys being there. Don't get discouraged.. I for one will be happy to do a repeat tour and make a whole thing out of it again and see if we can arrange a screening of the first film (or even the trilogy) at the Alamo itself. One can always hope!

Onto other stuff.. the SE R2 and R3 releases are something I and think most diehard Robo heads have been waiting literally decades for.. still don't have mine but plan to get 'em soon that I have a real job and a Blu-Ray player (actually one of my sis' TWO current-gen consoles, the bitch
).

That bust does look phenomenal, as does the RoboCAIN head.

Of course big thing coming is the Doc, which I know we're all looking forward to after all this time. Perhaps we can all meet up for if/when-ever a event for this is made. We must do it.

Also I'll make a shoutout to the Statue - especially since it now seems it's back on track for what should be a now-this-year unveiling.

2017, not a great year for some other shit, but a pretty damn awesome one for Robo!


PS - The yellow-shirted guy towards the left is where we were at.

_________________


I don't wanna pay that, PhotoBucket. Now maybe you haven't heard, but I'm the guy in old Archive. So hows about you just shit snow for a year and I'll figure out something else. Sayonara!
---
RoboPimp
3.0

Joined: 10 Mar 2007
Post Count: 2834


Comment: "Ain't nothin' like pimpin'" - Too $hort


Posted: Thu Jan 04, 2018 3:37 am
Great list. The 30th anniversary was a bit underwhelming, but did bring some cool stuff and renewed interest in Robo for a bit. I fear there are darker times ahead, and once all the announced stuff comes out we might not hear any news about Robo for a couple years. But, that's the way it goes. We just hit a high point, and a couple years down the road someone will do something good with the property and start the wheels turning again.

As for the Robocop vs Terminator movie, I can see it happening, but it's gonna be a while. Hear me out: once the superhero movies start to wane a bit, and they care less about competing and more about squeezing out every last dollar, the crossover movies with start, just like what happened with the comics. So when Batman vs. Spiderman and Avengers vs. JLA are box office smashes, expect new AvP and any other kinda inter-property crossovers to become a thing, for a brief while. And ten RvT can shine. Just look at how Marvel and Sony have come together to make a buttload of cash. Someone's gotta milk us for those Robobucks.

Also, does anyone know any other way to get the Dekker commentary for Robocop 3. I don't have a Blu-Ray player but am really interested in hearing it.
_________________

http://bkjames.bandcamp.com/
---